India is a young nation with ~65% of its population below the age of 35 years. This demographic dividend presents an opportunity that can be leveraged to create a high-quality skilled workforce for the rest of the world, especially those nations which have an ageing or declining national population.
To cater to the global workforce demand, NSDC actively pursues global partnerships with governments and businesses with the aim of
promoting global mobility,
strengthening the Indian skilling ecosystem, and
sharing of knowledge with other developing & developed economies.
This is in line with the Government of India's vision to transform India into the Skill Capital of the World. At present, NSDC has actively worked in markets like Japan through the Technical Intern Training Program (TITP) and the GCC countries including UAE and Kingdom of Saudi Arabia through Government to Government (G2G) and Business to Business (B2B) workforce mobility collaborations. Progress has also been made for developing partnership across countries like Canada, Australia, Finland, Morocco, Sweden, Russia, Jordan, Maldives, among others.
NSDC, along with Ernst & Young (EY) has conducted the 'Global Skill Gap Study'. The study showcases the in-depth analysis of the global workforce markets with prime focus on leveraging the opportunities to the benefit of Indian workforce. The study highlights nations that would face workforce shortages in the foreseeable future and maps out the corresponding opportunities that these shortages present for the Indian workforce.
Key findings of the study highlight the demand of Indians in European countries, countries with mature migration systems like Japan, US, Australia, Canada, Singapore and countries in the Gulf Cooperation Council (GCC). As per the study, sectoral demand for Indian migrants:
In United Arab Emirates, Saudi Arabia and Qatar shall be approx. 2.63 million (in next 5 years) across major sectors such as Construction (1.17 million), Wholesale & Retail Trade (0.42 million), real estate and rental & business services (0.28 million) etc.
in Germany, Netherlands, UK, Sweden & Switzerland shall be approx. 0.30 million by 2030 across major sectors such as Health & Social Care (0.11 million), Manufacturing (0.05 million) etc.
In Singapore, Australia, New Zealand, Canada, USA, Japan & Malaysia shall be approx. 0.95 million (in next 5 years) across major sectors such as Health Care and Social Assistance (0.22 million), construction (0.10 million) etc.
IISC Network
Objective
With this background, the IISC Network is envisioned to be the nodal platform to facilitate international workforce mobility opportunities for Indians. This network will be central to the GOI's plan to make India the skill capital of the world. It will be a fee based, market driven model, determined by global workforce supply and demand dynamics. It will comprise of Member Organisations operating through several fixed centres to be referred as IISCs. Through the IISC Network, Member Organisations will be supported to work across various country clusters including:
Gulf Cooperation Council (GCC)
Japan, Russia, South East Asia
North America
Australia, New Zealand
Europe
NSDC along with the IISC Network Member Organisations shall work to achieve the following milestones in the next 5 years for the above-mentioned country clusters:
International Skill Harmonization & Benchmarking – Acceptance of Indian Skill Standards and collaboration for International Approved Standards across 10 Countries
International Workforce Mobility – Place at least 100,000 skilled certified Indian candidates overseas
Pre-Departure Orientation Trainings – Orient and train 250,000 candidates
Recognition of Prior Learning Assessment & Certification Overseas – 25,000 workers
Benefits of becoming IISC network member organisation:
IISC members would be entitled to various benefits upon successful empanelment such as:
Knowledge and Research for International workforce mobility
In order to continuously keep track of the shifting dynamics of international workforce migration, market awareness is crucial. NSDC will facilitate in providing information on migration clusters, overseas mobility mechanisms and workforce supply/demand data on periodic basis. This will help the IISC Network members in exploring new business opportunities.
Government/B2B facilitation
Government of India aims to make India the skill capital of the world. To achieve this objective, NSDC along with MSDE forge partnerships with overseas public/private partners and industry bodies. Empaneled IISCs would be preferred partners for implementation of such G2G or B2B initiatives. Under such collaborations, IISCs will have the opportunity to:
Participate in meetings/interactions with various International Delegations
Collaborate with NSDC to deliver projects/programs for International Workforce Mobility initiatives
Deliver training/upskilling programs on international platforms in other countries under G2G/B2B programs
Designated as internationally approved assessment centres under different G2G agreements.
Participate in International Forums, Workforce Mobility Dialogues, International Delegations for advocacy of various programs under IISC
Access varied support extended by Indian state governments to facilitate labor mobility
The following G2G/B2B collaborations illustrate the nature of opportunities:
a. Gulf Cooperation Council (GCC)
India – UAE Skill Harmonization Program – MSDE signed a G2G level MoU with National Qualifications Authority (NQA), Govt. of UAE to enhance cooperation and recognition of qualifications. Under the MoU, NSDC is working with Ministry of Human Resource and Emiritization (MoHRE) and Abu Dhabi Quality & Conformity Council (ADQCC) for benchmarking qualifications, assessment & certification.
Kingdom of Saudi Arabia Skill Harmonization P rogram – NSDC signed an MoU signed with TakaMol Holding, A semi Government Agency under Ministry of Labor & Social Development, Kingdom of Saudi Arabia for Skill Verification Program in India. Under the MoU, a network of Assessment Centres (Trade Test Centres)/Skill Verification Centres across India will be established to deliver assessments in the identified benchmarked qualifications to potential migrant workers
Establishment of Driving Training Institutes in collaboration with Emirates Driving Institute, UAE NSDC has signed MoU with Emirates Driving Institute (EDI), the largest and the most successful driving institute in UAE & Middle East, and the Youth Chamber of Commerce (YCC) to establish driver training institutes in various parts of India. This engagement will facilitate candidates to acquire a UAE driving license, in line with the requirements of regulatory agencies of different countries of Gulf.
b. Japan – A G2G level project where the Governments of India and Japan have entered into a Memorandum of Cooperation (MoC) for sending candidates from India with prior work experience to Japan as interns is being implemented by NSDC. The project entails on-the-job training with Japanese employers for 3-5 years.
c. Pre-Departure Orientation Training (PDOT) – Ministry of External Affairs (MEA) and Ministry of Skill Development and Entrepreneurship (MSDE) signed a Memorandum of Understanding (MoU) on 2nd July 2016, to implement Pravasi Kaushal Vikas Yojana (PKVY), a scheme designed to offer skill training to Indians seeking jobs overseas. Under PKVY, Pre-Departure Orientation Training (PDOT) is provided to potential Indian migrants before they leave India for better acclimatization of migrant workers to the language, culture, emigration process, welfare measures and do's and don'ts of the destination country.
d. Others – NSDC has signed MoU's with Japan, Sweden, Russia, Finland, Germany, Canada, Maldives, Morocco and Jordon to explore various areas of Skill Development, Vocational Education and Mobility of Skilled Manpower to these regions.
International Skill Standard Benchmarking & Harmonization
International workforce mobility can be facilitated through various skill standard benchmarking exercises with different countries that shall enable us with recognition of our skill certification. To achieve this objective, NSDC works with International Governments, Regulatory Authorities, International Awarding Bodies.
Advocacy and Branding
The India International Skill Centre (IISC) program would be promoted by NSDC, nationally and globally. Such an endorsement would be a big boost to the credibility and image of the partners engaged in running IISCs. International roadshows, job fairs, awareness and advocacy fairs will be conducted by NSDC. These shall provide support for strengthening the process of mobilization of candidates for international workforce mobility.
Demand Aggregation Portal
NSDC will facilitate development of a portal which will aggregate workforce demand from various sources like G2G/B2B initiatives, job portals and others. The portal will be actively promoted as a one – stop solution to connect the international workforce demand with the supply of skilled candidates.
Funding Support – Candidate and Business loans*
Since the IISC program would run on a fee – based, market driven model, therefore, it is also essential to provide funding support in the form of candidate and business loans. NSDC aims to facilitate the same for IISC network members.
*Availability of loans will be subject to business requirement and organisational capability
Standard operating guidelines
NSDC will develop standardized guidelines and modules for upskilling, counselling & guidance, domain skill training, PDOT and language training. All IISCs would need to comply with the standard guidelines provided by NSDC for ensuring effective implementation of the program. This shall ensure certain market driven standardization across the network resulting in quality assurance and higher acceptability by overseas employers.
Assessment and certification processes
Through various G2G/B2B collaborations which are being undertaken by NSDC, Skill India assessment and certification is being promoted across different countries. Each empaneled IISC will become crucial stakeholders in enhancing global recognition of the Skill India certification by implementing various G2G/B2B/skill harmonization programs being supported by NSDC.
In addition to delivering Skill India assessment & certification, IISCs will be enabled to test as per the standards aligned to the global market needs to ensure placement of candidates. To achieve the same, IISCs may choose one of the following options as per the requirements of the project:
Skill Testing and certification on NSQF awarded by NCVT/Indian Sector Skill Council (SSC)
Skill Testing and Certification in line with the requirements of International Employers
Skill testing and Certification on International Qualification awarded by an International Awarding Body
IT platform –Data Management and Monitoring system
All empaneled IISCs will be provided access to an online portal for managing and maintaining candidate life cycle. This shall also enable us to showcase the availability of highly skilled certified candidates to international government/employers for promoting mobility. NSDC will also develop various tools for efficient monitoring and evaluation of the IISCs. Members may also benefit from access to candidate data (e.g. certified candidate database within NSDC ecosystem) to facilitate candidate mobilization and overseas placements.
IISC Network activities
The IISCs are expected to undertake the following activities:
Counselling and Guidance – IISCs will provide mandatory career counselling and guidance support for international training and employment opportunities in overseas market. Some of the aspects through which this will be achieved are:
Information on the required skill set, minimum wages etc
Information of working conditions, overtime working hours and other benefits
learning content (on-line/off-line) for preparation of skill testing
Skill Testing & certification aligned with international standards – IISCs will conduct skill testing as per the standards aligned to the global market needs to ensure placement of candidates. This outcome will be achieved by considering a specific skill testing and certification system prevalent in destination countries or accepted by employer. Three variants of standards for assessment available to IISCs are:
Indian qualification awarded by Indian Sector Skill Council (SSC) standard
International qualifications awarded by International Awarding Body (IAB)
International Employer standards
Incremental skill training and Pre – Departure Orientation Training (PDOT) – IISCs will provide upskilling for experienced candidates who may have some skill gaps which will be identified through skill testing conducted at the IISC. This will be followed by PDOT which is mainly to orient potential migrant workers with regards to, culture, do's and don'ts in the destination country, the emigration process and welfare measures established by GoI in foreign countries via its embassies/missions. Opportunity to conduct PDOT will be subject to a separate empanelment of IISCs under PKVY.
Implement G2G/B2B for training, certification and placement facilitation – IISCs will be provided with opportunities to implement G2G/B2B initiatives.
Language Training – IISCs will have the opportunity to conduct language training via country partnerships and employer demand
Details of IISC Network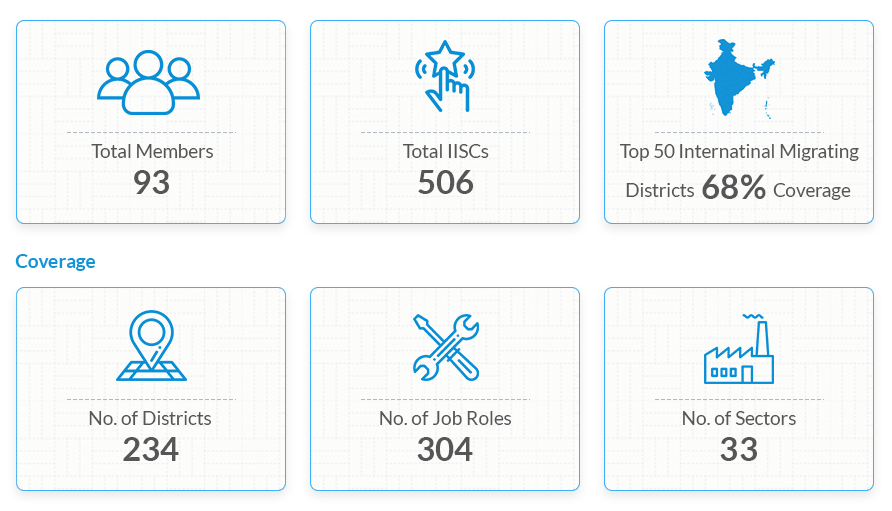 Pre-Departure Orientation Training (PDOT)
Given the need to orient potential migrant workers with regards to language, culture, do's and don'ts in the destination country, the emigration process and welfare measures, PDOT program has been launched. Ministry of External Affairs (MEA) in collaboration with Ministry of Skill Development and Entrepreneurship (MSDE) is conducting the PDOT program. NSDC is the implementing agency for this program.
A longer variant of PDOT i.e. 160 hours was offered at all IISCs which consisted of country orientation, language and digital literacy.
A shorter variant of PDOT program i.e. 1 Day (ongoing) is offered to all migrant workers who are likely to depart soon and register for the training through registered recruitment agents.
PDOT program is delivered by trainers who have undergone Training of Trainers (ToT) program organized by MEA. So far, 52 trainers from existing IISCs and NSDC Training Partners have undergone the PDOT (ToT).
Update
As on March 31st 2020, 93,748 emigrants have been delivered PDOT Trainings through 9 PDOT centers in 7 cities (Delhi, Mumbai, Kochi, Lucknow, Chandigarh, Gorakhpur and Chennai). 6 additional Training centres for PDOT training at Bhopal, Kolkata, Bhubaneswar, Jalandhar, Amritsar and Thiruvanthapuram have been shortlisted and expected to be operationalized soon.
The one-day PDOT program was piloted in 2 locations of Mumbai and Delhi each and commenced on 10th January 2018. Since inception, over 23,700 candidates have received training (as of 4th October 2018) under One-Day PDOT Program.
In the near future, this program is expected to be scaled up to include five more cities namely Hyderabad, Cochin, Chennai, Kolkata, and Lucknow.
Content
Pre-Departure Orientation Training (PDOT) modules would be part of the trainings at IISCs, which shall make the trainees adjust to the culture and environment of the migrating country as well as provide the necessary digital literacy skills.
by nsdcindia